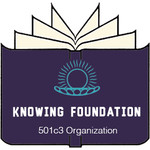 Knowing Foundation
Needs a little help from a friend
Hello Dear Friend,
There are times in everyone's life when a caring friend makes all the difference. Now could be one of those times. Knowing Foundation thought you could help with a fundraising campaign and asked us to tell you about it.
Here's the campaign:
Native American Cultural Literacy Program

$100 raised · $36,000 goal

The Knowing Foundation provides support for Native American literacy and cultural programs for distribution through Native Media Network, a 24/7 media platform broadcasting, and archiving and communicating to Indian Country. ... View campaign
Not interested in this campaign? Opt out of further emails.
You received this message because someone provided your email address to FundRazr. If you didn't authorize the use of your email address in FundRazr, please contact us at support@fundrazr.com. We'll get things sorted out pronto.
Don't want to receive emails like this? Change your contact preferences or unsubscribe from all emails.
ConnectionPoint Systems Inc., 200-171 Water Street, Vancouver, BC Canada V6B 1A7